Fruzsina Gárdos-Orosz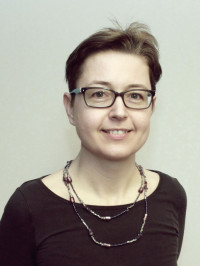 Download CV
Director of Institute
Senior Research Fellow (TK JTI)
Department: Department of Constitutional and Administrative Law
Academic Title: PhD
Email: orosz.fruzsina@tk.hu
Phone: +36/1/224-6700 / 5101
Building: MTA HTK (Floor, room: T.0.22.)
Selected Publications
Book
Gárdos Orosz Fruzsina: Alkotmányos polgári jog? Az alapvető jogok alkalmazása a magánjogi jogvitákban. (Consitutionalisation of private law? Fundamental rights in private relations) Budapest; Pécs: Dialóg Campus Kiadó, 2011. 215 p.
Edited books
Zoltán Szente, Fruzsina Gárdos-Orosz (eds.):

New Challenges to Constitutional Adjudication in Europe: A Comparative Perspective ?,

London: Routledge, 2018.

Balázs Fekete, Fruzsina Gárdos-Orosz (eds.): Central and Eastern European Socio-Political and Legal Transition Revisited. Frankfurt am Main: Peter Lang GmbH, Internationaler Verlag der Wissenschaften, 2017.
Book chapters
Unamendability as a judicial discovery? In Richard Albert and Yaniv Roznai (eds.): Unamendability. Springer 2017. forthcoming.

Effective Legal Protection in administrative law in Hungary (co-authored with István Temesi) In The Principle of Effective Legal Protection in Administrative Law. A European Comparison. Eds. Zoltán Szente and Konrad Lachmayer. London: Routledge, 2016.

The Protection of Fundamental Rights in Private Law: Hungary In: Vernica Trstenjak – Petra Weingerl (eds): The Influence of Human Rights and Basic Rights in Private Law. Genf

Judicial Review of Constitutional Amendments: A Theoretical Approach. In: Luka Burazin – Djordje Gardasevic – Alessio Sardo (eds.): Law and state: Classical Paradigms and new proposals . Frankfurt am Main; Berlin; Bern; New York; Paris; Wien

Citizens"s rights to constitutional adjudication in Hungary In Smuk Péter (ed.): The Transformation of the Hungarian Legal System 2010-2013. Budapest: CompLex Wolters Kluwer, 2013. pp. 117-131.
Articles
Preliminary Reference and the Hungarian Constitutional Court: A Context of Non-Reference. German Law Journal 16 (6) pp. 1569-1590 (2015)

The regulation of offensive speech in the new Hungarian Civil Code. ELTE Law Journal 2015/1. 13-123.

The appointment and removal of judges in Hungary: efforts, reforms and constitutional controversies . Przeglad Prawa Konstytucyjnego (6) pp. 81-103. (2015)

The Hungarian constitutional court in transition: from actio popularis to constitutional complaint. Acta Juridica Hungarica – The Hungarian Journal for Legal Studies 53:(4) pp. 302-315. (2012)
Research Projects
2013 - research fellow in the 108836. OTKA project: Integration and Desintegration in the Hungarian Society.