Gábor Schweitzer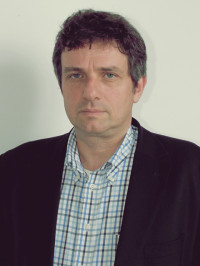 Download CV
Senior Research Fellow (TK JTI)
Department: Department of Legal Theory, the Sociology of Law and the History of Law
Academic Title: PhD
Administrative Duties: National Legal Bibliography
Email: schweitzer.gabor@tk.hu
Phone: +36/1/224-6700 / 5162
Building: MTA HTK (Floor, room: T.0.32.)
Research Interests
Public administration law, legal history, historoy of the science of constitutional law
Selected Publications
Az önkormányzatiság színe és fonákja. A fővárosi törvényhatósági bizottság szabályozása 1920-1930 között. (The regulation of the municipal board of the capital city of Budapest between 1920 and 1930)
Budapest: L' Harmattan Kiadó, 2010. 1-280.
A katedrán innen és túl. Tanulmányok a jogi felsőoktatás múltjából. (Papers on the past of higher legal education in Hungary)
Pécs, Publikon Kiadó, 2011. 1-212 oldal
Szimbolika és közjog. Az állami és nemzeti jelképek helye a magyar alkotmányos rendszerben. (Symbolics and public law. State and national symbols in the Hungarian constitutional system)
Társszerző: Halász Iván
Pozsony: Kalligram Kiadó, 2010. 1-215.
Fundemantal Law – Cardinal Law – Historical Constitution: The Case of Hungary since 2011.
Journal on European History of Law, 2013/1. 124-128.
A Hungarian Legal Philosopher in Germany. Bódog Somló at the Universities of Leipzig and Heidelberg (1896-1897).
Társszerző: Halász Iván
In: "Transfer – Interdisciplinär!" – Akteure, Topographien und praxen des Wissenstransfers.
Szerk.: Gantner, B. E. – Varga, P.
Frankfurt am Main, Peter Lang GmbH, 2013. 45-61.
A "kismagyar Athén"-ban: Molnár Kálmán az Egri Érseki Joglyceumben. (1907-1926). (In the little Hungarian Athens: Kálmán Molnár in the legal academy of Eger between 1907 and 1926.)
In: Ünnepi tanulmányok Révész T. Mihály 65. születésnapja tiszteletére.
Máthé Gábor, Mezey Barna (szerk.) Budapest: Gondolat; ELTE ÁJK, 2010. 405-427.
(Bibliotecha Iuridica. Az ELTE Állam-és Jogtudományi Karának tudományos kiadványai Libri Amicorum; 38.)
A "bídermájer" városban – Molnár Kálmán a pécsi tudományegyetem közjogi tanszékén (1925-1946). (In the "biedermaier" city – Kálmán Molnár, professor of public law in the University of Pécs)
In: De apicibus iuris disputare. Tanulmányok Máthé Gábor tiszteletére.
Szerk.: Bónis Péter – Mázi András – Tóth J. Zoltán. Bp., 2011. 204-232.
Az egyházak, vallásfelekezetek és vallási közösségek a 2011. évi C. törvény és a 2011. évi CCVI. törvény tükrében. (Churches, religious demoninations and religious communities according to the regulations of Act C of 2011 and Act CCVI. of 2011.)
In: Alkotmányozás Magyarországon 2010-2011.
Szerk.: Drinóczi Tímea – Jakab András
Bp., Pécs: Pázmány Press, 2012. 239-255.
The age of discrimination: Marginalizing jews in the Hungarian local government regime, 1920-1941.
In: Jahrbuch des Simon Dubnow Instituts/Simon Dubnow Institute Yearbook
Göttingen: Vandenhoeck & Ruprecht, 2011. 273-284.
Legal Education and Ethos of the Legal Profession in Hungary in the Civil Era.
Journal on European History of Law. Vol. 2/2011. No. 2. 51-54.