András László Pap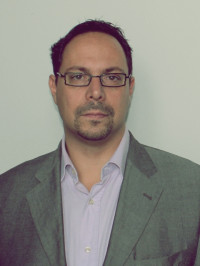 Download CV
Head of Research Department
Research Professor (TK JTI)
Department: Department of Constitutional and Administrative Law
Academic Title: Doctor of HAS, PhD
Administrative Duties: Head of Research Group on Minority Rights, editor of 'Állam- és Jogtudomány'
Email: pap.andras.laszlo@tk.hu
Phone: +36/1/375-9337 / 5115
Building: MTA HTK (Floor, room: T.0.31.)
Research Interests
Constitutional law, minority rights and law enforcement issues, surveillance, privacy and challenges brought by the new digital technology
Selected Publications
Democratic Decline in Hungary, Routledge, 2017, 176.
"Intimate Citizenship" and Illiberal Democracy: Twilight or Rebirth of Constitutionalism. In: Iulia Motoc-Paulo Pinto de Albuquerue-Krzystof Wojtyczek (eds.): New Developments in Constitutional Law, Eleven International Publishing, 2018 (co-authored with Anna Sledzinska-Simon) 399-424.
Ethno-racial identity (politics) by law: "Fraud" and "choice", Nationalities Papers The Journal of Nationalism and Ethnicity, 2017/5 volume 45, pp. 968-987.
Recognition, representation and reproach: new institutional arrangements in the Hungarian multiculturalist model, In: Balazs Vizi/Norbert Toth/Edgar Dobos (eds.): Beyond International Conditionality. Local Variations of Minority Representation in Central and South-Eastern Europe. Nomos, 2017, pp. 101-136.
Constitutional identity? The Hungarian model of illiberal democracy, In M. Steven Fish -Graeme Gill - Milenko Petrovic (eds.) A quarter century of post-communism assessed, Palgrave Macmillan, 2017, 161-186.
Racial, Ethnic, or National Minority? Legal Discourses and Policy Frameworks on the Roma—In Hungary and Beyond, Social Inclusion 2015, Volume 3, Issue 5, 78-89.
Is there a legal right to free choice of ethno-racial identity? Legal and political difficulties in defining minority communities and membership boundaries, Columbia Human Rights Law Review, Volume 46. No. 2. Winter 2015,(46.2:73 2015) pp. 153-232.
Dogmatsm, Hypocrisy and the Inadequacy of Legal and Social Responses Combating Hate Crimes and Extremism: The CEE Experience, in: Stewart, Michael (ed.) The Gypsy 'Menace'. Populism and the New Anti-Gypsy Politics, London, 2012, Hurst & Co. / Columbia University Press, pp. 295–311.
Constitutional Exceptionalism: Efficacy, Proportionality and the Attenuation of Balancing Standards, in: Synnøve Ugelvik and Barbara Hudson (eds) Justice and Security in the 21st Century: Liberty, Risks, Rights and the Rule of Law, London and New York, 2012. Routledge, pp. 157–178.
Law Enforcement Ethno-Racial Profiling: Concepts and Recommendations, in: Wolfgang Benedek – Wolfram Karl – Anja Mihr – Manfred Nowak (eds.) European Yearbook on Human Rights 2009, Wien, 2009, Neuer Wissenschaftlicher Verlag, pp. 285–296.
Research Projects
RESEARCH AND OTHER PROFESSIONAL EXPERIENCE
Freedom House Nations in Transit 2016, reviewer
Facing ALL the Facts! - online course on hate crime monitoring for public authorities and civil society (JUST/2015/RRAC/AG), participant (2016-)
Hungarian Academy of Sciences Centre for Social Sciences "Small Incubator" Grant "Institutional discrimantion in Poland and Hungary" (2016), project leader
Law Enforcement Theory and History Research Group, National University of Public Service, Hungary, member (2016-)
Milestone Institute, Budapest, interviewer (2015)
Challenges of criminal justice systems in addressing the needs and demands of minorities, Forum on Minority Issues, Eighth session, "Minorities in the criminal justice system", Palais des Nations, Geneva, Switzerland, 25 November 2015, invited expert, invited speaker
City of Westminster Magistrates' Court, London (Egyesült Királyság), expert (2015)
International Law Enforcement Academy, trainer,"Human rights and law enforcement", "Hate crimes and ethnic profiling) (2015), Budapest, Hungary
Police Training of Trainers on Non-discrimination, Council of Europe, Strasbourg (2014)
Nationalist Responses to Economic and Political Crises, Association for the Study of Nationalities (ASN)- Central European University (CEU) Nationalism Studies Program, Budapest, 12-14 June, 2014, member, organizing committee
Hungarian Academy of Sciences Centre for Social Sciences "Small Incubator" Grant "The comparative assessment of using harrassment as a tool to combat hate crimes, hate speech and atypical form of discrimination inder EU law in the Czech Republic, Germany and Hungary, " (2014), project leader
Academic Exchange (USA-Israel) (2014)
Bibó István Szakkolégium (Honors Program), "Coach", mentor (2014-)
OTKA, Hungarian National Scientific Research Grant, "Integrational and desintegrational processes in Hungarian Society", expert (2013-2015)
Hungarian Academy of Sciences Centre for Social Sciences "Incubator" Grant "Identity-political responses to social conflicts in European, national and local context" (2014-2017)
Hungarian Academy of Sciences-Istituto di Studi Giuridici Internazionali Consiglio Nazionale delle Ricerche, Rome, Mobility Grant (2012)
University College Dublin, Faculty of Law, Erasmus visiting professor (2012)
UN Office of the High Commissioner for Human Rights, National Consultant (2012)
European Union Agency for Fundamental Rights (FRA), senior expert of the Hungarian Focal Point for the FRANET(2011-2015)
RED Network combating racism, xenophobia and intolerance (2011-2013), project leader, senior expert (founded by the EU)
Instituto Europeo de Derecho Barcelona, Possible developments of Community legislation in the field of electoral matters including possible modification of Directive 93/109/EC, expert (2010)
City of Westminster Magistrates' Court, expert witness (2010, 2012)
European Union Agency for Fundamental Rights (FRA), Project Manager of the Hungarian RAXEN Focal Point (2007-2011)
European Union Agency for Fundamental Rights, Legal expert in the FRALEX project (2007-2011)
Hungarian Accreditation Committee, expert (2009-)
Hungarian Foreign Ministry, Universal Periodic Review, expert, (2009)
Hungarian Central Statistical Office, Conference on the 2011 census ethnic statistics, expert, (2009)
18th International Congress on Comparative Law (Washington D.C. 2010), national reporter, family law (2009-2010)
European Cooperation in Science and Technology (COST), "Living in Surveillance Societies" (LiSS) (2009–2012), partner (Working group 3: The business of surveillance)
Bilateral relations between the EU and Canada in the field of Justice and Home Affairs, expert (2008)
Centre for European Policy Studies (CEPS)- Directorate-General Internal Policies, Policy Department C, Citizens Rights and Constitutional Affairs, European Parliament, Brussels, rapporteur (2008)
International Centre for Democratic Transition, "Strengthening Rule of Law Institutions in Moldova: The Constitutional Court and the Ombudsman Service", leading expert (2008)
Council of Europe – International Centre for Democratic Transition, "Monitoring National Human Rights Structures", leading researcher (2008)
Parliamentary Commissioner for Ethnic and National Minorities (Hungary), Police monitoring report, expert (2008)
Hungarian Ministry of Justice and Law Enforcement, Monitoring the Roma anti-discrimination Service Network, expert (2007-2008)
Hungarian Prime Minister's Office, Government Strategy on Aging, rule of law chapter, expert (2008)
International Centre for Democratic Transition, "Strengthening Democratic Institutions in the Balkans: Ombudsman Service Reform In Kosovo And Montenegro", leading expert (2007)
OTKA, Hungarian National Scientific Research Grant, "Rule of law and policing", leading expert (2007-2011)
European Union Monitoring Commission for Racism and Xenophobia (EUMC), National Focal Point, Hungary, legal expert (2004-2007)
Internal and external challenges – Challenge: The changing landscape of the European Liberty and Security, Sixth EU Framework Programme, expert, (2005–2009)
Open Society Justice Initiative Ethnic Profiling by Police in Bulgaria, Spain and Hungary Project, Regional project leader (together with Bori Simonovits) (2005-2006)
Hungarian Helsinki Committee, trainer in anti-discrimination trainings (2005, 2007–2008)
Hungarian Civil Liberties Union, research consultant (1999)
International Law Students Association (ILSA)–Philip C. Jessup International Law Moot Court Competition, National administrator (1998)
Open Society Institute Constitutional and Legislative Policy Institute (COLPI) – Hungarian Helsinki Committee – Eötvös Loránd University Faculty of Law, Legal clinic in refugee law, participant (1997)
GRANTS EVALUATED
Magyar Állami Eötvös Ösztöndíj, Hungary (2016)
MTA Prémium Posztdoktori Ösztöndíj, Hungary (2016)
VEGA, Scientific Grant Agency of the Ministry of Education, Science, Research and Sport of the Slovak Republic and of the Slovak Academy of Sciences (2016)
Tempus Hungary (2015)
H2020 Secure Societies, EU grant evaluator (2014) (evaluator and rapporteur, 2016)
Netherlands Organisation for Scientific Research, Division of Social Sciences, peer reviewer (2011)
OTKA, Hungarian National Scientific Research Grant (2011-)
PEER-REVIEW
Acta Juridica Hungarica (2016)
National Academic Competition (OTDK, Hungary) (2015)
Politics (2015)
Social Inclusion (2015)
Nations and Nationalism, (2014)
Politikatudományi Szemle (Hungary) (2014)
OSCE/ODIHR Guidelines on the Protection of Human Rights Defenders), Hungarian edition, reviewer (2014)
National University of Public Service Press, Hungary, peer reviewer (2013)
Work in Progress
Overruling Murphy's law on the free choice of identity and the racial-ethnic-national terminology-triad: Notes on how the legal and political conceptualization of minority communities and membership boundaries is induced by the groups' claims.
In: Kristin Henrard (ed.): The interrelation between the right to identity of Minorities and their Socio-economic Participation, 2013, Brill, pp. 115-155.