Tamás Hoffmann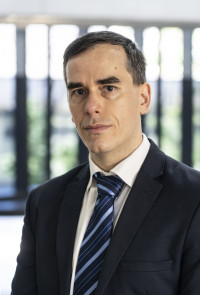 Download CV
Senior Research Fellow (TK JTI)
Department: Department of Criminal Law
Academic Title: PhD
Administrative Duties: Editor of the MTA Law Working Papers
Email: hoffmann.tamas@tk.hun-ren.hu
Phone: +36/1/224-6700 / 5105
Building: MTA HTK (Floor, room: T.0.15.)
Research Interests
Public international law with special focus on international criminal law and international humanitarian law
Selected Publications
'The Crime of Genocide in Its (Nearly) Infinite Domestic Variety' in Marco Odello, Piotr Łubiński (eds.) The Concept of Genocide in International Criminal Law - Developments after Lemkin (Routledge, 2020) 67-97.
'Crimes Against The People – A Sui Generis Socialist International Crime?' (2019) 21 Journal of the History of International Law 299-329.
'Az emberiesség elleni bűncselekmények nemzetközi és magyar jogi szabályozása' [International and Hungarian Legal Regulation of Crimes against Humanity] (2017) 58 Állam- és Jogtudomány, 29-55.
'An Eternal Promise? – Three Sketches on the Universality of International Humanitarian Law', in Enikő Dácz, Cristina Griessler and Kovács Henriett (eds.) Traum von Frieden – Utopie oder Realität? (Nomos Verlag, 2015) 237-260.
'Post-Second World War Hungarian Criminal Justice and International Law – The Legacy of the People's Tribunals', in Morten Bergsmo, Cheah Wui Ling, Yi Ping (eds.) The Historical Origins of International Criminal Law - Vol. II. (Torkel Opsahl, 2014) 735-763.
'The Perils of Judicial Construction of Identity – A Critical Analysis of the International Criminal Tribunal for the Former Yugoslavia's Jurisprudence on Protected Persons' in Kim Rubenstein (ed) Connecting International Law with Public Law - Allegiance and Identity in a Globalised World (C.U.P., 2014) 497-521.
'Trying Communism Through International Criminal Law? – The Experiences of the Hungarian Historical Justice Trials' in Kevin Jon Heller and Gerry Simpson (eds) Hidden Histories of War Crimes Trials (O.U.P., 2013) 229-247.
'Squaring the Circle? – International Humanitarian Law and Transnational Armed Conflicts' in Michael J. Matheson and Djamchid Momtaz (eds) Les Règles et Institutions du Droit International Humanitaire à l'Epreuve des Conflis Armés Récents/Rules and Institutions of International Humanitarian Law Put to the Test of Recent Armed Conflicts (Martinus Nijhoff – Hague Academy of International Law, 2010) 217-274.
'The Gentle Humanizer of Humanitarian Law – Antonio Cassese and the Creation of the Customary Law of Non-International Armed Conflicts' in Larissa van den Herik, Carsten Stahn (eds.) Future Perspectives on International Criminal Justice (T.M.C. Asser, 2010) 58-80.
'Individual Criminal Responsibility for Crimes Committed in Non-International Armed Conflicts - The Hungarian Jurisprudence on the 1956 Volley Cases' in Stefano Manacorda, Adán Nieto (eds) Criminal Law Between War and Peace: Justice and Cooperation in Criminal Matters in International Military Interventions (Cuenca: Ediciones de la Universidad de Castilla-La Mancha, 2009) 735-753.
Research Projects
The relationship between international criminal law and domestic law; the influence of international law on the law of the Hungarian People's Tribunals.

2012-2015 Bolyai János Kutatói Ösztöndíj – A nemzetközi büntetőjogi normák "hibridizálódásának" jelensége
"Project 10-ECRP-028 – 'International Law through the National Prism: the Impact of Judicial Dialogue' (Judicial Dialogues in Eastern Europe subproject)"
"Cost Action 1003 – International Law between Constitutionalisation and Fragmentation"