Balázs Fekete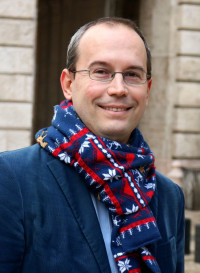 Download CV
Senior Research Fellow (TK JTI)
Department: Department of Legal Theory, the Sociology of Law and the History of Law
Academic Title: PhD
Administrative Duties: Head of Group for Interdisciplinary Legal Research; Hungarian Scientific Research Fund (OTKA), Hungarian Open Access Online Legal Scholarship Encyclopedia, editor 'Állam- és Jogtudomány'
Email: fekete.balazs@tk.hu
Phone: +36/1/224-6700 / 5133
Building: MTA HTK (Floor, room: T.0.29.)
Research Interests
Comparative Law, legal theory, EU law
Selected Publications
How to Become a Judge in Hungary? From the Professionalism of the Judiciary to the Political Ties of the Constitutional Court. In: Sophie Turenne (ed.): Fair Reflection of the Society in Judicial Systems: a Comparative Analysis. Heidelberg; London; New York: Springer, 2015. pp. 169-186.
Raising Points of Law on the Court's Own Motion?: Two Models of European Legal Thinking, MAASTRICHT JOURNAL OF EUROPEAN AND COMPARATIVE LAW 21:(4) pp. 652-675. (2014)
The Revival of Comparative Law in a Socialist Country: The Impact of Imre Szabó and Gyula Eörsi on the Development of Hungarian Comparative Law REVIEW OF CENTRAL AND EAST EUROPEAN LAW 38:(1) pp. 37-52. (2013)
The Concept of Legal Culture Revisited: An East-Central European Perspective. In: Miodrag A Jovanovic, Bojan Spaic (szerk.) Jurisprudence and Political Philosophy int he 21st Century. Reassessing Legacies Frankfurt am Main; New York; Berlin; Bern; Bruxelles; New York; Oxford; Wien: Peter Lang Verlag, 2012. pp. 56-68.
Történeti elemek az EU-tagállamok alkotmány-preambulumaiban. In: Lamm Vanda, Majtényi Balázs, Pap András László (szerk.) Preambulum az alkotmányokban. Budapest: Complex Kiadó, 2011. pp. 33-45.
A modern jogösszehasonlítás paradigmái.: Kísérlet a jogösszehasonlítás történetének új értelmezésére. Budapest: Gondolat Kiadó, 2011. 246 p.
Cultural comparative law? In: Cserne Péter, Könczöl Miklós (szerk.) Legal and Political Theory in the Post-National Age: Selected Papers Presented at the Second Central and Eastern European Forum for Legal, Political and Social Theorists, Budapest, 21-22 May 2010 Bern: Peter Lang Verlag, 2011. pp. 40-51.