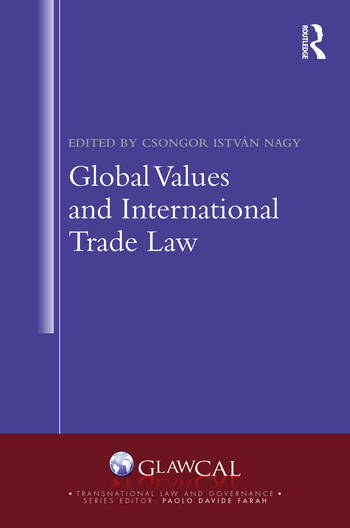 A new book by our colleague, Csongor István Nagy has been published by Routledge: Csongor István Nagy (ed.) Global Values and International Trade Law, Routledge, 2022.
Exploring the relationship and interaction between economic interests and normative non-trade values, this book argues that the emergence and development of non-trade values is based on a complex dialectic interaction between selfish economic interests and normative values, and examines how their structural interdependence has given rise to a remarkable evolution in international trade. Conceiving this relationship as an intricate dialectic one that is neither purely value-driven, nor purely economic-interest-driven, it addresses the emergence, function and role of non-trade values in international trade with a synthetizing approach and explores the results of their interaction in international economic intercourse. Approaching the non-trade issues of trade in a holistic manner, the book demonstrates that trade can operate smoothly only if it is framed by an architecture of normative value standards and international trade liberalization has reached the level where further development calls for cooperation also in fields that, at first glance, may appear to be non-trade in nature.
Further details of the book can be found here.